St Augustine Private Skiff Eco Tour "The Otherway"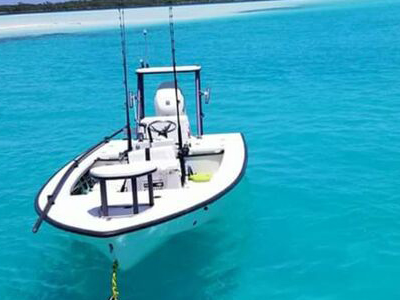 Enjoy a private St Augustine eco-tour on our skiff "The Other Way". You can spend the day watching dolphins frolic in the St Augustine intracoastal with your Captain enlightening you on dolphin behavior. Or maybe you will get lucky and encounter a manatee on your cruise. The St Augustine waterways are rich in all types of wildlife including fiddler crabs, oysters, sea grasses, marine worms, shells, algae, jellyfish, birds, plants and reptiles.
And our skiff and tours can be customized to your needs. So if a tour of the city, pub crawl, lunch or dinner at local waterfront restaurants is more your style, we can accommodate you. The boat is ours, but the day is yours, so call us to discuss what will make your day on the water perfect for any occasion.
• $155 per hour (no fuel charge)
• Max 3 people.
Maybe a private chartered yacht tour or a day on a pontoon boat rental is more your style, check out our other tours! We have something for everyone and any occasion.
Call for more information or use our Contact form for additional information.